The Community Foundation of Sarasota County cares about this community.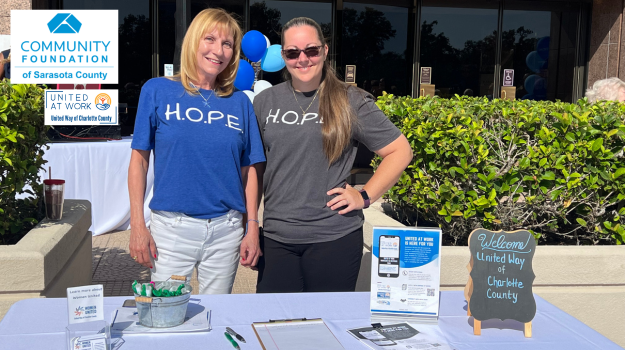 by Angie Matthiessen, Executive Director – United Way of Charlotte County
When I think of the people helped since Hurricane Ian by United Way of Charlotte County's United at Work (UAW) program, my mind instantly moves to the business owners I spoke with after the storm who were hurting and reeling from the assault on their livelihood. Each one will run in my imagery and memory forever. Yes, they were in shock trying to determine how they would keep going. Equally though, they worried about their employees. United at Work was created to financially assist employees of businesses so they could keep working amid recovery efforts.
The goal of the UAW program is to provide personal case management and resource navigation services to make getting assistance simple. Thankfully donors such as the Elsa and Peter Soderberg Foundation, who contributed a $500,000 matching grant, stepped forward to help. Out of this generous gift, the path from storm to sustainability began.
United Way of Charlotte County (UWCC) has recently received a grant allowing us to continue this critical navigation work. Thanks to the Community Foundation of Sarasota County's Suncoast Disaster Recovery Fund, a $67,000 grant will focus UWCC's ability to ensure the United at Work funds get to the workforce and care for their long-term recovery needs. We are extremely grateful for this support. The funds provided allow us to continue serving employees of Charlotte County businesses who were impacted by Hurricane Ian. The ripple effects of catastrophe caused by Ian create ongoing needs, both at work and in homes. Approximately 532 households have already been helped with critical Ian-related support, totaling close to $700,000.
United at Work has provided a critical safety net for our region, allowing UWCC to immediately activate strategies to help families, and with new funding, sustaining support to this hard-hit region. One hundred percent of funds raised, currently totaling $1.3 million, have been designated for Charlotte County employees to receive help and hope after the storm. Just one month after Ian, through a grant provided by Gulf Coast Community Foundation, UWCC was able to hire Stephanie Lucy, a navigator solely focused on guiding families through the crisis. Stephanie has listened to every story and responded to those in need with compassionate direction.
When I hear stories like that of the Mendoza family, who were forced to live in a RV in their driveway after their home was left unlivable, and how United at Work was able to cover some expenses to help them stay afloat, I am thankful for those like Stephanie who have helped make such successful efforts possible. What makes UAW different than any other program is our commitment to making the process of applying and receiving assistance uncomplicated. Case managers streamline this process and link clients to other community resources.
The impacts of a major storm are felt long after the event. Take for example the Stockton family, who reached out to UAW after fighting with their insurance company and struggling to make ends meet. They had to take out a personal loan to cover their mortgage payment and other bills. Thankfully, UAW helped them with their mortgage and utilities, as well as a gift card for groceries.
We continue to see households struggling with regular monthly living expenses as a consequence of Hurricane Ian. The generosity of the Community Foundation of Sarasota County and their donors will allow us to continue filling these gaps. A survey of 60 individuals who were helped showed that 34.9 percent considered their needs completely met and 47.6 percent considered their needs at least partially met. "I was so appreciative of the support provided," one person surveyed said. "The hurricane created difficult times for many and United Way of Charlotte County made it all a little easier to recover." When you Give Hope, you Get Hope with United at Work.
Individuals in need of Hurricane Ian-related resources and assistance can find information at www.unitedwayccfl.org/unitedatwork. To learn more about the Community Foundation of Sarasota County and their Suncoast Disaster Recovery Fund, please visit www.cfsarasota.org/Suncoast-Disaster-Recovery-Fund.
For more information about United Way of Charlotte County's mission:  Mobilizing the power of our community to break the cycle of poverty, please contact Angie Matthiessen, Executive Director. She can be reached at director@unitedwayccfl.org.