What is VITA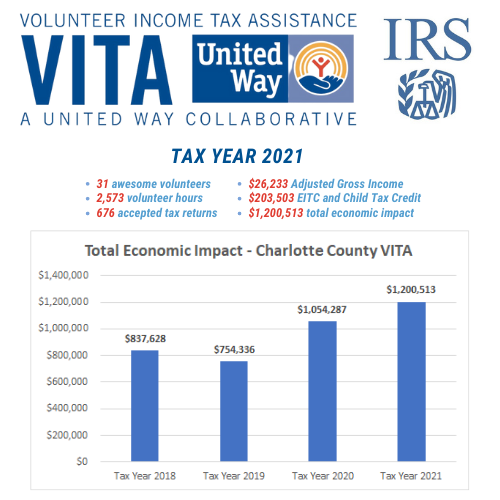 The Volunteer Income Tax Assistance (VITA) program offers FREE tax filing services February through April each year at sites throughout Charlotte County, and year-round at United Way of Charlotte County's Port Charlotte office.
A substantial portion of available assistance to lower-income families is accessible only by filing a tax return (assistance such as the Earned Income Tax Credit, the Child Tax Credit, and more). The average cost among large national tax preparers is close to $300, and there is evidence that some EITC filers pay up to $500. For lower-income taxpayers who want assistance preparing and filing their tax returns, the free service available from VITA represents a significant cost savings.
Although United Way of Charlotte County's VITA program is open to taxpayers with annual incomes up to $66,000, the adjusted gross income of those obtaining services in 2022 averaged $26,233.
For a sizeable number of VITA filers, the tax credits and refunds claimed represent a large share of annual available household resources.
Read more to find out how to apply for returns, what information is needed and how to get involved as a VITA volunteer.
Who is eligible?
If you made $66,000 or less in 2021 you may qualify. Upon calling for an appointment additional information will be needed to determine if you qualify.
 
If you were self-employed, for us to do your taxes:
Business expenses (including mileage) must be less than $25,000.

You cannot have employees working for you.

You cannot have had a business loss.
Do you own any rental property? If yes, you are not eligible and should contact a paid professional.
 
Do you have investment income?  The program volunteers have limited training and cannot prepare returns with complicated capital gains. Excessive stock trading will not qualify.
Do I need to file?
If you or your spouse is at least 25 years of age you should file (even if your income is very low) because you may be eligible for the Earned Income Tax Credit (EITC). EITC is a tax credit for certain people who work and have low wages. A tax credit usually means more money in your pocket.
Year-Round Assistance
United Way of Charlotte County is now offering limited year-round tax assistance in Port Charlotte.
If you were our client and received a letter from the IRS that you need help understanding or you have other general tax return questions, let us help. 

This year-round site is also available to those individuals who still need to file their taxes for the 2022 Tax Season (2021 Tax Year). 

This service is offered on an as-needed basis. Please call to schedule an appointment. 941-627-3539
MyFreeTaxes
If you are interested in learning how to easily do your own taxes (for FREE), you can use www.MyFreeTaxes.com.
Watch this video tutorial that shows just how easy it really is to use MyFreeTaxes through TaxSlayer!
Get Involved: Volunteer with VITA
United Way of Charlotte County is recruiting volunteers for the 2023 tax season. Volunteering for the Volunteer Income Tax Assistance (VITA) program is a fun and easy way to help others in our community. You don't need to be a numbers-person to help, either! The software (a partnership between Tax-Slayer and the IRS) does all of the heavy lifting. Over 85% of our volunteers have had no prior experience in tax prep.
Trained volunteer tax preparers will assist clients by preparing simple tax returns. Our volunteers help working individuals and families keep their hard-earned money. All volunteers receive FREE comprehensive training and certification in partnership with the IRS. No experience is necessary. Volunteers are covered under the Volunteer Protection Act and are not accountable for tax returns filed to the IRS.
We offer traditional in-person tax preparation appointments as well as our VITA Valet service. With VITA Valet, clients drop off all needed documents and our experienced volunteers prepare the tax returns from home on their own time.
Volunteer Positions: 
Appointment Setters make phone calls to clients to schedule their time slot. 
Greeters welcome VITA clients to the site and ensure that they are prepared with all required documentation to meet with the tax preparer.
Document Scanners collect required documentation from VITA Valet clients and scan them electronically for our tax preparers.
Tax Preparers help individuals and families prepare their tax returns and ensure all eligible taxpayers receive their qualifying tax credits.
Site Coordinators/Quality Reviewers manage the operations of the United Way VITA site, including volunteer staff and quality control.
These roles contribute to families' financial stability every year. Behind every return there is a story. Volunteers hear these stories and experience first-hand how they are making a difference every time they volunteer.
Get involved and help us make an impact on Charlotte County!

For more information on VITA volunteer opportunities, contact Nadia Demyanovskiy at VITA@unitedwayccfl.org or 941-627-3539.
Do you have tax questions or need help with your tax return? Click here to get connected to VITA!