March 1, 2024
Peace River Botanical & Sculpture Gardens
Beaujolais, is scheduled for March 1, 2024 at the Peace River Botanical & Sculpture Gardens! 
We look forward to raising our glasses with you in March!
Friday, March 1, 2024
5:30pm-8:00pm
United Way of Charlotte County invites you to join our Board of Directors at our 9th Annual Beaujolais. The event grows every year and we would love to celebrate with you. 
Enjoy tapas, music, and wine tasting at a beautiful location showcasing a natural setting and spectacular botanicals in the Peace River Botanical & Sculpture Gardens. Chef Jason Osborne and his students will return with another outstanding menu, plus more!
Sponsorships and Ticket Packages are on sale now.

Patti Haley-Herndon walked away from a successful career of 17 years in banking and finance to follow her dream of operating a shoppe that would merge her twin passions of wine and chocolate, highlighted by her ascension as a sommelier from the Guild of Sommeliers and her notable talent for crafting artisan chocolates developed during her 15 years in the restaurant industry.  A graduate of Ecole Chocolat she continues to find new and exciting ways to showcase flavor and art. 
Patti tirelessly donates her time to an array of philanthropic ventures such as Habitat for Humanity and animal sanctuaries CROW and Octagon. Patti's father was a World War II Veteran and she has spent hours aiding veterans with Medicare, financial planning, and retirement planning. Further interests include a love for aviation (over 120 hours in a single-engine Piper Warrior), scuba, photography, and of course, her husband, Stephan.
Haley Handcrafted Chocolates, llc was established in 2015, with Punta Gorda Chocolate & Wine, Inc in 2016.  In 2018 we expanded to Punta Gorda Coffee & Tea, inc to bring the Downtown Experience full circle.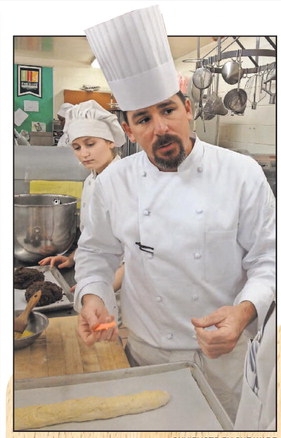 Chef Jason Osborne, has been head instructor at Charlotte Technical College culinary program since 2006.  He completed the program himself as an adult, graduating from Culinary Institute of America, and working in the industry before returning as a teacher. He has utilized his skill, education and work experience to better several restaurants and employees in Georgia, Florida and New York to improve the customer's experience.

We are pleased to announce our 2024 Beaujolais Sponsors!