December 10, 2021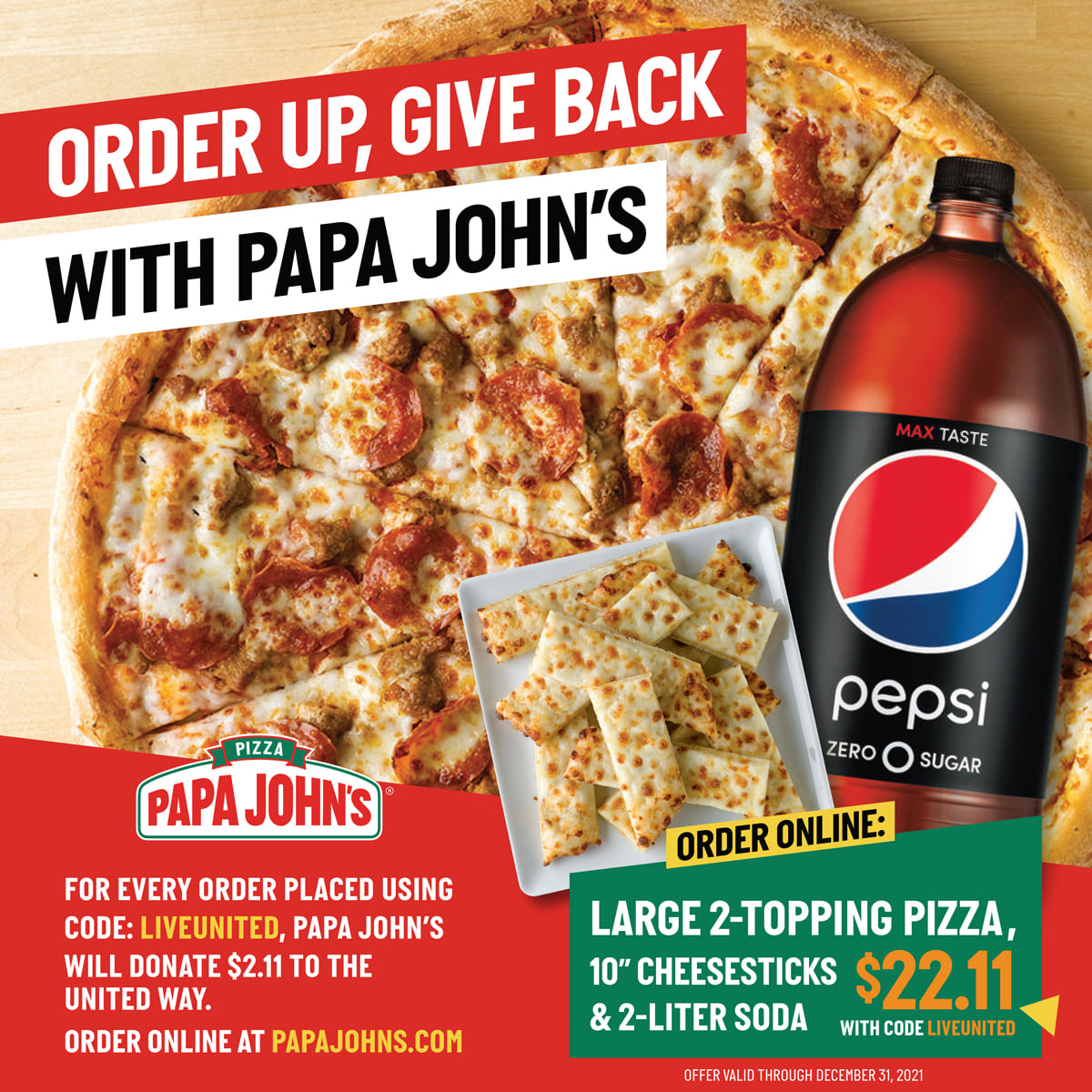 What sort of magician can turn a pizza party into educational success, financial stability, and health & wellbeing?
Papa John's!
For every order of a large 2-topping pizza, 10" cheesesticks, and 2-liter soda through the end of this year, you can ask Papa John's to donate $2.11 to United Way of Charlotte County (just use the code LIVE UNITED). And you get all of that for $22.11.
This unique partnership started over a year ago when Papa John's reached out to the United Ways across southwest Florida. Since then, we have been encouraging you to throw a pizza party anywhere! In the boardroom, office, football gathering, birthday party, you name it!
Funds raised in Charlotte County support the work we do at UWCC to support your friends, family, and neighbors in need. Our work is focused on breaking the cycle of poverty in Charlotte County and we do that through combining forces – or, as we like to say, MOBILIZING!
There is still time to order your pizza and organize your holiday party while giving back to United Way of Charlotte County as this promotion goes through December 31, 2021. We have three Papa John's in Charlotte County, so call one of them today.
Our partnership with Papa John's doesn't stop there.
We were awarded a $10,000 grant from Papa John's Foundation in July 2021 to support our Kids Thrive Collaboration which helps families overcoming the effects of substance use. Kids Thrive promotes the parent-child bond while assisting in reducing the negative withdrawal symptoms to substance-exposed children.
The families in Kids Thrive are also ALICE (Asset Limited, Income Constrained, Employed) families, and food insecurity is a large issue for them. One goal of the Kids Thrive Collaboration is to provide resources and connect families to healthy food they may otherwise not have access to. Worden Farm in Punta Gorda helps connect these families to organic produce and healthy recipes to try with their families at home. Trips to the farm have led to increased social support and self-esteem to promote long-term health, healthy eating, and well-being.
Thank you, Papa John's Southwest Florida for supporting United Way. Your generosity helps us with our mission to mobilize our community to break the cycle of poverty in Charlotte County.