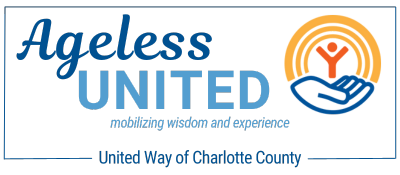 Vision:
Drawing on member's life experiences to engage in the mission of United Way of Charlotte County
Mobilizing wisdom and experience...
Ageless UNITED was born out of a deep commitment to helping our most vulnerable community members - seniors. Our program is specifically designed to provide financial support, combat isolation, and promote overall well-being. We are actively developing Ageless UNITED to make a meaningful impact on the lives of seniors in our community. 
Everyone is welcome! For more information, contact Gail McKee at inspire@unitedwayccfl.org or call 941-627-3539.
See the BIG Picture
Here are more details on the Ageless United strategic priorities.  Click below to read columns that were featured in the Charlotte Sun.
Thank you to our 2023 Ageless United Sponsors!